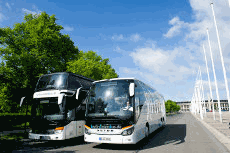 CheckMyBus shows you all available coach companies at a glance. Regardless of whether you're travelling domestically or abroad, at www.checkmybus.co.uk you'll find a large selection of bus companies, with safe, comfortable and greatly priced coaches ready to bring you to your destination.
Find out more about each bus provider. See if WiFi is available or if complimentary snacks and drinks are offered. Check your bus on CheckMyBus!
We do not only compare intercity buses, but also other public means of transportation - Further information at: Other Means of Transport.