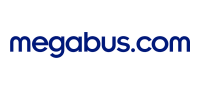 The coach company
megabus
is part of the Stagecoach Group, which operates trains and buses in Europe and North America. In addition to offering destinations in Great Britain, where it were founded in 2003, it also offers additional destinations in Germany, France and other European countries.
Your trip with megabus could be especially inexpensive, as the company offers discounted tickets on a regular basis starting at £1.
In total you can find 75 cities featured in the megabus timetables. Destinations include cities such as London, Cologne and Paris. The long distance bus provider megabus counts over 893 bus connections.
megabus has resumed its routes in England and Wales in a limited capacity. Connections in Scotland and some select partner services continue to run. Coaches will enforce strict cleaning regimes, and all staff will practice good hand hygiene according to guidelines from Public Health England.
megabus Discounts, Deals and Promo Codes

The Scottish coach company megabus is famous for its
£1-tickets
, which are generally available on every connection. If you want to get one of these inexpensive tickets you simply need to book a few weeks in advance, usually about 60 days. The inexpensive tickets are the reason why megabus doesn't really offer any other discount schemes, such as student or group discounts. However, there are still some ways to save a few extra pounds when travelling.
For instance, a
toddler under the age of 3
travels for free. Keep in mind, though, that there is no seat guaranteed. Free travel within Scotland is also available for
Scottish Entitlement Card holders
, i. e. travellers with a disability or over the age of 60. Instead of offering fixed discounts, however, megabus frequently gives out promo codes or launches other campaigns that include attractive deals. Sometimes they even hand out
thousands of tickets for free
, usually for trips in January. To keep up to date with any current offers, you should check all
megabus Deals
before booking.
megabus is based in the Scottish city of Perth and offers regular connections to about 90 destinations all over the United Kingdom. In addition, they also operate some special services such as coach connections to Silverstone for the Formula 1 race. The megabus network reaches from Truro to London and from Aberdeen to Southampton, thus covering the largest parts of England, Scotland and Wales. While basically all of the major UK cities can be reached by megabus, some smaller towns like Aberystwyth, Havant and Newquay can also be found on the megabus timetable. In addition to that, travellers can also get to and from some select UK airports such as Bristol or Southampton Airport.
Information on megabus on-board features and services
free:
WiFi on Board

Toilets

Electric Sockets

Compartments for hand-luggage

Luggage transportation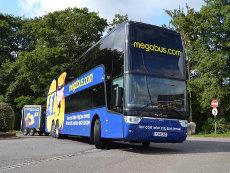 megabus is part of the
Stagecoach Group
, the second largest transport company in the UK. The intercity bus subsidiary megabus was launched in August 2003 and originally only operated one bus route, which went from London to Oxford. In the following years, megabus steadily expanded its network by adding more and more connections linking basically of Britain's major cities. In May 2011, the company's first and only stop in the
Republic of Ireland
was added to the schedules, namely Rosslare Europort.
In April 2012, megabus started its first connections between the UK and continental Europe. It originally linked Birmingham and London to Paris as well as Leicester and London to Brussels and Amsterdam. This step took place when the European coach market was in a state of flux: strict regulations were in place which were meant to protect state funded railway companies and thus prohibited intercity coach connections. However, these regulations started to crumble and in 2013 Germany officially opened its market to intercity buses with France following two years later. This meant that there were new and affordable ways to travel large parts of Europe.
The coach company megabus tried to gain a foothold in the newly established and fast growing market and launched ever more connections in France, Germany and Italy. However, it turned out that the competition was too strong and the struggle for market leadership too heated. In July 2016, megabus announced that its operations in continental Europe had been sold to the German market leader FlixBus.
Nevertheless, the coach company remains one of the main players in the British Isles with over five million passengers per year. Its core competence – namely the operation of low-cost intercity bus lines – was supplemented by additional services such as the sleeper coach between London and Glasgow, Luxury Megabus Gold services between London and Edinburgh/Aberdeen or the railway subsidiary megatrain.