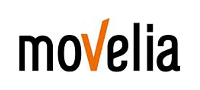 Thanks to the support of the Ministry of Science and Technology as well as the Ministry of Public Works, the coach company Movelia could be founded in 2001. Movelia is a network of over 20 transport companies representing more than 70 coach providers. Thanks to the successful cooperation of the individual bus operators, Movelia currently serves coach stations and bus stops in 3370 cities. Overall, the network operates 144724 individual bus connections.
Insider Tips:
As Movelia is a network made up of several individual bus companies, whose on-board features and discount model might differ, we recommend you
contact the coach provider of your choice
directly in case you have any inquiries.
Information on Movelia on-board features and services
free:
Compartments for hand-luggage

Luggage transportation
extra charges:
Bike storage

Bulky luggage transportation

Pets allowed