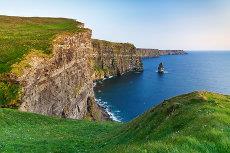 Ireland
is also known as the Green Island and with good reason. The island, which consists of the Republic of Ireland and Northern Ireland, boasts itself of vast landscapes, striking lakes and picturesque seaside town. You can rent a boat and go up the
River Shannon
or you can take a trip to one of the many natural attractions, such as the
Cliffs of Moher
on the western coast of Ireland.
However, Ireland is not only known for its landscapes but also for its impressive culture, which dates back centuries ago. The Brú na Bóinne (the Boyne Palace) for instance features ancient tombs, which outdate both Stonehenge and the Pyramids in Egypt, which is why they are part of the UNESCO World Heritage. For modern life and entertainment, Ireland's cities are a good place to go, no matter if you opt for Cork, Limerick or the country's capital city Dublin. The latter is widely known for its many parks and attractions including the world famous Arthur Guinness brewery at St. James's Gate, where its signature dry stout is produced. Should you plan a trip to Ireland, then make sure to visit in March because this is when the Irish celebrate their national holiday, St. Patrick's Day. Dressed up in green, the Irish everywhere go out to sing, dance and to watch parades on 17 March. Naturally a pint of Guinness or a glass of Irish whiskey is also an important part of St. Patrick's Day celebrations. The holiday actually got so popular, that it is nowadays celebrated all over the world with the Americans taking a particularly huge interest in St. Patrick's Day. Unique Irish culture can also be witnessed live, when visiting Croke Park in Dublin, the fourth largest sports stadium of Europe. However, it is not designed to host mainstream sports games such as football. Instead it is the home of amateur sports, including some characteristically Irish pastime activities such as hurling or Gaelic football.
There's numerous coach and bus connections within Ireland. Coach companies such as Aircoach and Bus Éireann connect larger cities as well as smaller towns in the individual Counties. Apart from that, they also offer numerous airport shuttle connections to Dublin Airport, Shannon and Cork Airport. Despite the Irish Sea, even cross-border bus routes can be booked. Eurolines UK, for instance, offers a vast amount of cheap bus and coach connections between larger cities in Ireland and the UK, also providing for inexpensive travel options to the continent.
Top bus connections in Ireland
Popular coach destinations in Ireland