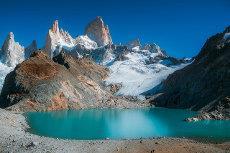 "
The End of the World
" is by far more beautiful than you can imagine. The southernmost country in South America is incomparably stunning because of its outstanding landscape: bizarre glaciers, snow-capped mountain peaks, lagoons, savannah, waterfalls, swamplands and metropolises. By the way, the name "
Argentina
" stems from the Latin word for silver – "argentum" – because people hoped to find precious metal during the colonial era.
Buenos Aires is the cultural and economic centre and also the place of origin of Tango Argentino. Almost one third of Argentinians live there. Further major cities are Córdoba, Rosario and Mar del Plata. Should you love to try foreign dishes, your menu must include the beef speciality Asado served with a glass of the Argentinean red wine Malbec. Are you rather focussed on visiting the unique landscape and natural beauty of the country, we created a short "places you shouldn't miss" list:
1. Iguazú Waterfalls: With 2.7 kilometres length they are by far the biggest waterfalls in the world. They are undeniably worth seeing.
2. Tierra del Fuego and Ushuaia: Rugged cliffs and harsh winds surround the southernmost city in South America and this is why the place is nicknamed "end of the world". Expedition tours heading to Antarctica and few-day trips to the Penguin Islands start here.
3. Bariloche and the Lake District: The lakes are located in the middle of the Andes mountain range, surrounded by deep green coloured trees, which in combination with the blue water makes them unsurpassable.
CheckMyBus helps you to find the best bus connections in Argentina. Most used bus operators in the region are Flecha Bus, El Rápido Argentino, Chevallier and Plusmar. Regardless of whether you are looking for buses in South America, North America or Europe, we compare prices and travelling times for you. Therefore you are able to plan your next journey to somewhere new ahead of time from your couch at home.
Top bus connections in Argentina
Popular coach destinations in Argentina