Spain: COVID-19 Travel Updates
Domestic Travel
The State of Alarm in Spain will last until including May 23, 2020. Mobility within and between regions will be restricted to exceptional situations depending on the phase of confinement and security from each region. Coach companies like ALSA or Avanza Grupo have limited their services. Travelling should be done alone and only in case of emergencies or for work-related activities.
International Travel
All borders are closed until further notice. Entry to Spain is possible only for residents of the country. The Foreign Affairs Office advises people who need to return to Spain to contact the Spanish embassy or consulate of the country where they are currently located.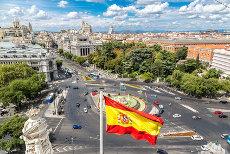 History, art, beaches, sun and the famous flamenco:
Spain
offers all of this and more! Thanks to the country's past and its variety in landscapes and cultures, Spain is a nation full of contrasts: Travellers opting for a cheap bus trip to
Andalusia
will find vast
sandy beaches
, which allow for relaxation and water sports, next to
snow-capped mountains
, which represent a paradise for fans of winter sports. Apart from the country's natural benefits,
historical cities
such as
Granada
with the famous castle
Alhambra
, attract numerous visitors every year due to their cultural diversity.
When on a coach trip through Spain, a detour to Barcelona should definitely be considered: The city offers numerous tapas bars, lovely beaches and breath-taking architecture influenced by the famous artist Antonio Gaudí, whose Sagrada Familia and Park Güell are certainly worth a visit. Travellers opting for the capital Madrid can take a tour through the renowned art gallery Prado or the Reina Sofía Museum. After a day at the museum, the evenings can be spent by going to the theatre or attending one of the many live events on offer in Spain's capital. More art can be seen in Bilbao, home of the world-famous Guggenheim Museum. If you are looking for peace and quiet, then walking along the pilgrimage route Camino de Santiago is highly recommended: Thousands of pilgrims decide to wander or cycle on the trail every year, in order to arrive at the grave of the apostle Jacob in Santiago de Compostela. Apart from art and nature, one of Spain's main attractions consists in its national cuisine. Have a taste of Iberian ham or Manchego cheese. A plate of the traditional Valencian paella or a portion of fresh sea fruits is the highlight of every Spanish menu. To accompany your delicious meal, a glass of finest Spanish wine is perfect.
The coach allows you to travel Spain in a comfortable, yet inexpensive way. Coach companies such as ALSA, Avanza Grupo or Autocares Grupo Samar take you to Madrid, Granada, Barcelona or Valencia. Trips to Córdoba or Seville can also be found on the companies' timetables. Thanks to CheckMyBus, it has never been so easy to find your cheap ticket and to book a relaxed coach trip to Spain.
Top bus connections in Spain
Popular bus routes to and from Spain
Popular coach destinations in Spain
All coach stations and bus stops in Spain
Spain - Even more bus trips to or from this country