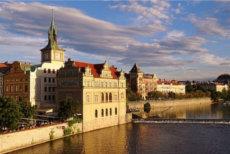 Should you believe the
Czech Republic
has not more to offer than its capital city
Prague
, you are wrong! There are a lot of things and places waiting for you to see and experience. Many famous artists, architects and writers like Franz Kafka and Alphonse Mucha left their marks and thus contributed to the
rich cultural heritage
of the country. The UNESCO included several cities and landmarks on their list. Furthermore, you should definitely take a sip of the
Czech beer
, it also attracts many tourists.
Prague is also called "The City of 100 Spires" or "Golden City" and is world-famous for sights like Prague Castle, Charles Bridge and the Jewish quarter. When in Brno we recommend you take a trip to Villa Tugendhat. It became the centre of functionalistic architecture and is one of the few more recent cultural heritage sites in the country. The small town in Central Bohemia Kutná Hora was once one of the most vivid and wealthiest cities in the region because of silver mining and minting of the Prague "groschen" coins. Should you be around, please do not miss to visit the St. Barbara's Church as it is one of the most remarkable churches in Middle Europe. Besides its landmarks, the Czech Republic is also known for the recreational areas and thermal baths at Karlovy Vary and Mariánské Lázně (also known as Carlsbad and Marienbad). At the Bohemian Forest you can superbly take a walk or hike through the valleys and green nature during summer or go skiing during winter season. You will see, there are plenty of options.
The Czech Republic connects Western and Eastern Europe and is therefore perfectly integrated into the European bus network. Bus companies like Eurolines, FlixBus or RegioJet offer trips to and from the Czech Republic to many European cities several times a day. It's so easy to take the bus and start your holidays right away.
Top bus connections in the Czech Republic
Popular bus routes to and from the Czech Republic
Popular coach destinations in the Czech Republic
All coach stations and bus stops in the Czech Republic
Czech Republic - Even more bus trips to or from this country