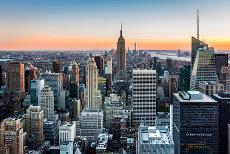 The
USA
is ranked as a dream destination for many travellers worldwide. Between East and West Coast visitors can find impressive landscapes, such as the
Grand Canyon
or the National Parks, and exciting cities like
Los Angeles, Las Vegas, Philadelphia
and – last but not least –
New York City
. While kids will enjoy a trip to America thanks to the many amusement parks like
Disneyworld
, adults will appreciate it for its cultural and natural diversity, which leaves nothing to be desired.
When going to America, a trip to New York City is a must. The Big Apple is waiting for you: While shopping and sightseeing allow no time for boredom, your nights can be filled with Broadway shows and modern bars. Take the boat to Liberty Island to see the Statue of Liberty up close, take a walk through Central Park or see a game at Madison Square Garden – the city that never sleeps will live up to everyone's expectations. If your journey takes you further west, then cities such as Boston, Philadelphia and Chicago are on your way, all of which offer countless museums and sights. If you go south, then a trip to Texas is highly recommendable. See real cowboys or discover metropolises like Dallas and Houston. On the West Coast you experience true laid-back Californian lifestyle: Take a trip to Hollywood to see where the rich and the famous live or go to San Francisco, the birthplace of the hippie movement. They say it never rains in Southern California, so a trip to one of the many beaches should be on your agenda as well. If you look for entertainment at its finest, then you cannot leave out Las Vegas on your trip to the USA. Try your luck at the slot machines or compete in blackjack tournaments. Even if you are not into gambling, a trip to Las Vegas is worthwhile thanks to its impressive hotel structures and the famous Las Vegas Boulevard.
The coach is a mode of transport which is very well established in the US. On CheckMyBus you can compare the offers of coach and bus companies in America and pick out the trip that suits you best. At a glance, we supply you with all the information you need for a successful coach trip through the USA, including on-board features, departure and arrival times as well as the exact locations of all the bus stops and coach stations. Going from A to B by coach is not only convenient but also very affordable – at home and abroad!
Top bus connections in the USA
Popular coach destinations in the USA