United Kingdom: COVID-19 Travel Updates
Domestic Travel
Different regions have different regulations, with tiers numbered from one to four. Those looking to travel should refer to the local policies of the regions they're travelling to and from.
International Travel
The Foreign and Commonwealth Office (FCO) advises against all but essential travel. This advisory is for an indefinite period of time. Travelers with potential COVID-19 symptoms may be transported to an airport self-isolation room.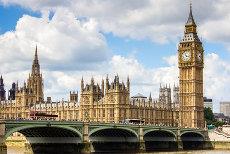 Cool Britannia
is awaiting you on your trip to the
United Kingdom
! No matter if you want to discover the
Scottish Highlands
on a hiking tour, wander through
Welsh coastal towns
, check out
historic Belfast
or experience
London culture and nightlife
. A trip to the UK should be on everyone's agenda!
One of the main attractions of the UK is certainly its capital London. The city is full of life, offers numerous historical sites – including Big Ben, Buckingham Palace or Westminster Abbey – and is home to a vast amount of renowned cultural institutions, such as the British Museum or Tate Gallery. Wander along the river Thames to discover beautiful Southbank with its many markets and streets artists or climb up to the top of St. Paul's Cathedral. A trip on the London Eye is a must if you want to take a look at London from high up above. After your sightseeing programme or your shopping tour of Oxford Street or Harrods, you can relax in a cozy pub or see one of the many West End shows. But London is by far not the UK's only attractions. Scottish cities, such as Glasgow and Edinburgh, are in no way inferior to the British capital. They offer their very own cultural attractions, such as Edinburgh castle or Kelvingrove Art Gallery. If you have enough of the buzz of metropolises, you can escape to the Scottish highlands and take a dip into one of the many lakes. Refreshments are offered at the numerous whisky distilleries found all over Scotland. Another option is to take a detour to one of Britain's coastal towns, such as Brighton or Whitby. The latter is an inside tip since it is rumoured to serve the best "Fish and Chips" in the whole of Britain. An excursion to Northern Ireland should also be on your personal list of things to do in the UK. The city Belfast was named the European Capital of Culture in 2008 and truly lives up to its name, not only thanks to the numerous Victorian buildings which shape Belfast's appearance.
Coaches enable you to discover the United Kingdom in an easy, convenient and affordable way. There are numerous coach and bus companies which offer inexpensive tickets for your trip to, from and through the UK. CheckMyBus will help you to find the best offer, no matter whether you want to go to London, Edinburgh, Manchester, Liverpool or many other cities in the UK. See all departure and arrival times at a glance and take a look at the bus features offered by the coach providers. You're only a few clicks away from booking your affordable bus and coach trip through the UK.
Top bus connections in the UK
Popular coach destinations in the UK
All coach stations and bus stops in the UK
United Kingdom - Even more bus trips to or from this country