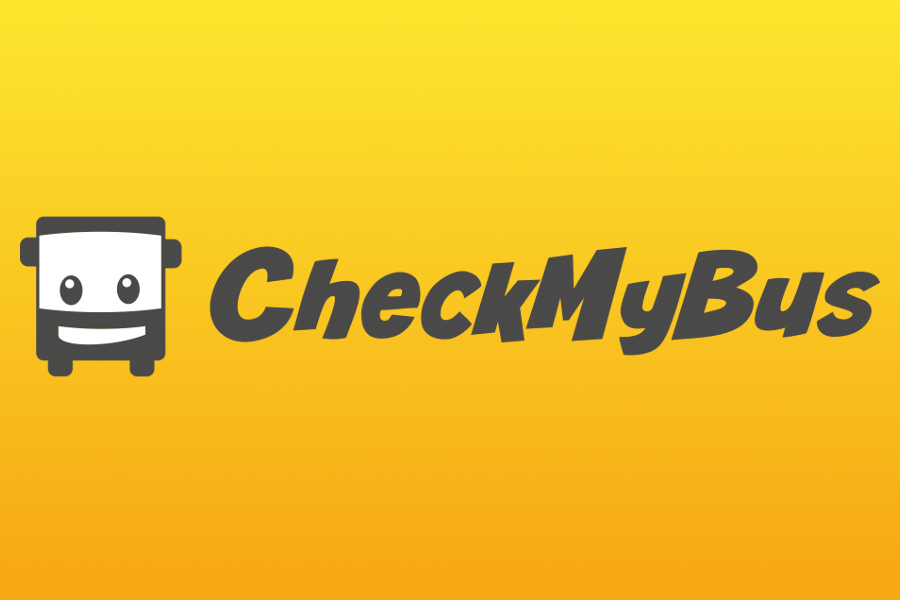 Nuremberg, 19 October 2016 – Recurring rail strikes, high public transport fares and ever-rising costs for often unreliable commuter services – the UK is certainly struggling with its public transport system as more and more customers voice their dissatisfaction. At £2.83, London has the third most expensive average single ticket worldwide after Stockholm and Copenhagen. The British capital actually comes second to none when taking a trip from zone 6 to the city centre at a peak time as a benchmark. However, the situation seems even worse for people living in the suburbs: A recent BBC study found out, that UK commuters spend about 11 per cent of their disposable income on the daily commute with the price per mile sometimes being up to 40p. According to an Action for Rail study, a commuter from Rome only spends 2 per cent of his or her salary on a similar journey.
While urban transportation and commuting is extremely expensive in the UK, long-distance travel on the other hand is comparatively cheap. A previous CheckMyBus study on low-cost coach prices in Europe, for instance, has shown that the UK comes third with regards to cheap coach fares. According to this price comparison, taking an intercity coach is only cheaper in Germany and France – two markets, which have only fairly recently been liberalised and are thus still characterised by a severe competitive struggle resulting in low-cost tickets.
This disproportionate discrepancy between urban/commuter services and long-distance travel is reason enough to take a closer look at the current situation in the UK. Recent CheckMyBus figures show how expensive the daily commute to work really is, especially when compared to other forms of public transport.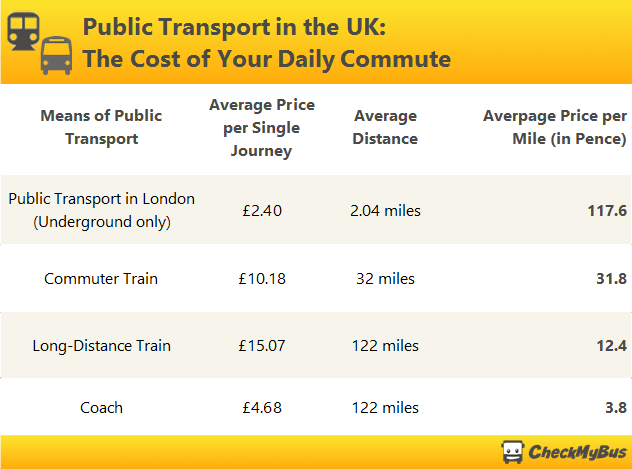 While it is not a surprise that travelling within London is the most expensive form of transport with regards to the price per mile, the actual price for commuter trains and its overall ranking might come as the real surprise. In order to calculate the price, annual passes for two of the UK's most heavily frequented commutes were taken into account: Reading-London and Chelmsford-London. The single journey price is based on two trips per day, excluding weekends and allowing for annual leave. The result is that, despite owning a season ticket, commuters still have to pay £9.89 and £10.46 for a single trip to the workplace. The average price per mile comes to 31.8 pence.
For comparison's sake: This amount of money would also buy you a return bus trip from London to Edinburgh booked two weeks in advance (£7.20 plus £1.50 booking fee with megabus) or a train ticket from London to Birmingham booked a month in advance (£6.25). All in all, a mile travelled on a long-distance train is on average about 61 per cent cheaper than a mile travelled with your annual commuter pass. Opting for the coach would even save you about 88 per cent on the average price per mile.
Although – due to obvious time issues – it is unlikely that commuters actually switch to coach services, the numbers still prove that the price paid by Britain's commuters is clearly out of proportion, especially so when also taking notoriously poor service standards into account. In 2014, for instance, the 7.29am Southern train from Brighton to London was delayed every single day of the year. This fact becomes even more excruciating, when considering that the Brighton-London train is one of the most expensive commuter trains nationwide, with passengers spending about 13 per cent of their net wages on the commute.
Nevertheless, there appears to be a heightened awareness for this problem, even if – so far – it seems to be more or less confined to London. The city's mayor Sadiq Khan promised a Transport for London fare freeze valid until 2020. Moreover, he introduced the "hopper fare" on London buses, which allows travellers to make a second journey for free within one hour of activating the initial ticket. This means, that changing buses in London has now become considerably cheaper as only one instead of two tickets is necessary.
Current developments in the British capital might also have positive effects on commuters staying in the suburbs: Last week, Khan presented plans to transfer suburban rail services from franchises such as Southern to TfL. This way, poor services and overcrowded trains are supposed to become less of a problem for people working in Central London with promised fare freezes also applying to devolved routes. Furthermore, the Department for Transport (DfT) has recently revealed plans to entitle passengers to compensation even for shorter delays. Under the scheme "Delay Repay 15", passengers will be able to file for compensation even if their train is only 15 minutes late. Another improvement is the integration of rail services into the Consumer Rights Act, which gives passengers certain rights if their train service was not conducted "with reasonable care and skill".
To sum up, a solution to the on-going and further increasing discrepancy between cheap long-distance travel and the expensive and often nerve-wrecking way to work is long overdue: After all, an affordable weekend staycation is only half the fun if the subsequent commute is not only a time-consuming but also a fairly dear endeavour.
Methodology:
In order to come up with a price comparison for the individual modes of public transport, a price per mile was calculated.
Public Transport in London: The average between the longest distance and the shortest distance between two underground stops was used for distance. The price equals a single Oyster contactless pay-as-you-go fare, i.e. £2.40.
Long Distance Fare Train: Train connections for the ten most popular CheckMyBus routes were analysed in terms of distance and price. Train prices were checked one month in advance for journeys during the week. The cheapest price available was used in order to calculate the price per mile.
Long Distance Fare Bus: The ten most popular connections on CheckMyBus were analysed in terms of distance and price. Coach prices were checked two weeks in advance for journeys during the week. The cheapest price available was used in order to calculate the price per mile.
Commuter Fare Train: Single journey price for two of the UK's most heavily frequented commuter routes, namely Reading-London (£9.89) and Chelmsford London (£10.46). Single journey price results from the cost for an annual pass (Standard) when route is travelled twice per day and allowing for annual leave. Ticket includes transfer within London zones 1-6. Calculated via Greater Anglia Season Ticket Calculator.
About CheckMyBus
CheckMyBus provides a search engine for national and international intercity buses under the following addresses www.checkmybus.de, www.fernbusse.de, www.checkmybus.com, www.checkmybus.fr, www.checkmybus.it, www.checkmybus.es, www.checkmybus.co.uk, www.checkmybus.at, www.checkmybus.ch, www.checkmybus.nl, www.checkmybus.pl, www.checkmybus.com.mx and www.checkmybus.com.br. The goal is to find the best bus connection available.

Press Contact:
CheckMyBus
Katja Haerlein
Karlstrasse 9
90403 Nuremberg (Germany)
Phone: +49 911 310440 0
Fax: +49 911 310 440 99
E-Mail: E-Mail: press@checkmybus.com

Websites:
www.checkmybus.de, www.fernbusse.de, www.checkmybus.com, www.checkmybus.fr, www.checkmybus.it, www.checkmybus.es, www.checkmybus.co.uk, www.checkmybus.at, www.checkmybus.ch, www.checkmybus.nl, www.checkmybus.pl, www.checkmybus.com.mx, www.checkmybus.com.br