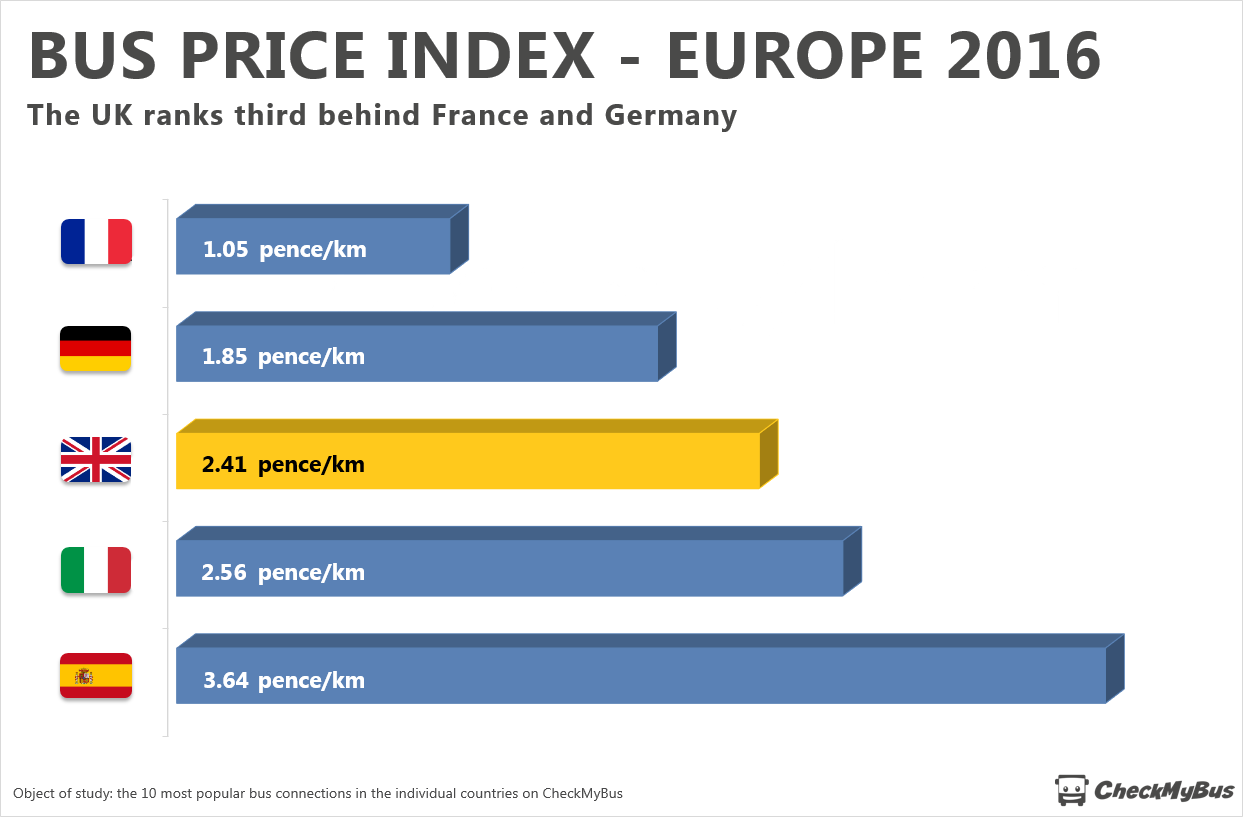 Nuremberg, 30 March 2016 – Which country offers the cheapest coach tickets? In a European comparison average ticket prices in the UK rank third behind France and Germany. Whereas in these two countries the market for intercity buses was only recently liberalised, the UK boasts itself of a securely established low-cost coach industry. Even after decades, customers still benefit from inexpensive tickets while newly founded coach companies from the continent are likely to cause renewed cuts in prices.
The international bus search engine CheckMyBus calculated the European intercity bus price index, for which the top ten connections in the individual countries were analysed. The top two spots are taken by France with an average of only 1.05 pence per kilometre and Germany with 1.85 pence per kilometre. This is in so far not surprising as the market for low-cost intercity buses was only recently opened in Germany (2013) and France (2015) and heated competition between young coach companies is resulting in particularly inexpensive tickets. On the contrary, in Spain the coach market is subject to strict regulations, which is why taking the bus is most expensive there. Due to Europe's current tendency to deregulate markets, however, more and more people in Spain speak up for a liberalised coach market.
Despite its established coach market, the UK ranks securely in third place with 2.41 pence per kilometre. Britain thus manages to prove that inexpensive bus journeys are still possible even after prices reached a plateau and the initial race for market leadership is over. Eurolines UK, megabus and National Express exist side by side and offer a fairly adjusted price and service level. However, the competition is likely to be rekindled as FlixBus sets sail for the British Isles: On 24 March the German market leader launched a connection from Paris to London with ticket prices starting at €9 – a connection for which travellers had to pay a minimum of £15 with Eurolines UK up to now. With its subsidiaries FlixBus Italia and FlixBus France, the bus provider has forced existing and new coach companies in these countries to re-evaluate their prices and to prove themselves when faced with special deals and €1-tickets – the same might hold true for the UK.

Tickets for only £1 are no novelty in the UK, however, with Scottish bus company megabus regularly advertising its low-cost fares. Customers, who compare prices before booking their ticket, can save up to 95 per cent on popular bus routes, such as Sheffield-London or London-Manchester. "Even on a settled coach market the cheapest ticket always goes to the customer who compares prices – especially so on highly frequented intercity connections. As the example of Italy shows though, a market entry of FlixBus could still shake things up much to the benefit of the low-budget traveller," declares Marc Hofmann, CEO of CheckMyBus. Possible results of a British FlixBus venture are reduced maximum prices, more special deals and a higher amount of inexpensive bus connections to and from mainland Europe as well as within the UK.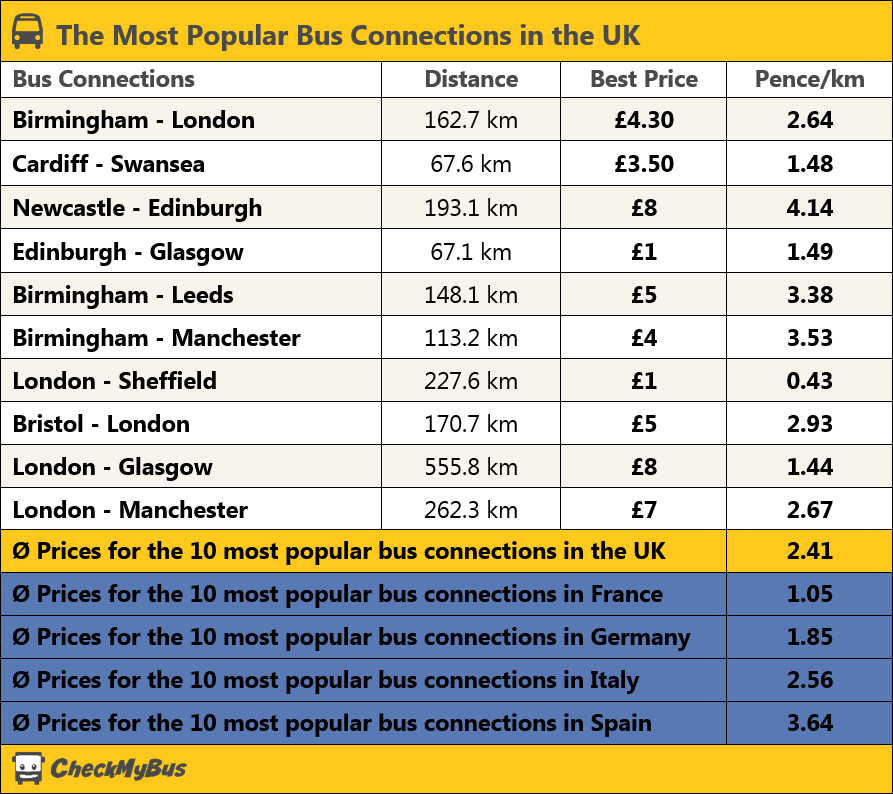 Methodology:
The ten most popular bus connections, i.e. those which were most frequently booked on CheckMyBus in February 2016, were analysed for the countries Germany, France, Spain, Italy and the UK. The connections were checked on 4 March 2016 for travel dates between 07 and 21 March 2016. The distance of the bus routes and the respective lowest price was used to calculate the price per kilometre – first for the individual bus connections in particular and afterwards for the average price per kilometre in the respective country in general.



About CheckMyBus
CheckMyBus provides a search engine for national and international intercity buses under the following addresses www.checkmybus.de, www.fernbusse.de, www.checkmybus.com, www.checkmybus.fr, www.checkmybus.it, www.checkmybus.es, www.checkmybus.co.uk, www.checkmybus.at, www.checkmybus.ch, www.checkmybus.nl, www.checkmybus.pl and www.checkmybus.com.br. The goal is to find the best bus connection available.

Press Contact:
CheckMyBus
Andreas Oswald
Karlstrasse 9
90403 Nuremberg (Germany)
Phone: +49 911 310440 0
Fax: +49 911 310 440 99
E-Mail: E-Mail: press@checkmybus.com

Websites:
www.checkmybus.de, www.fernbusse.de, www.checkmybus.com, www.checkmybus.fr, www.checkmybus.it, www.checkmybus.es, www.checkmybus.co.uk, www.checkmybus.at, www.checkmybus.ch, www.checkmybus.nl, www.checkmybus.pl, www.checkmybus.com.br