Germany: COVID-19 Travel Updates
Domestic Travel
The Federal Government warns against unnecessary tourist travel within Germany. People travelling within the country should take into consideration that the rules can change depending on which federal state they are in. It is advised to remain updated with the most current information at all times. Contact restrictions and distance rules must be observed. As of May 28, 2020 is possible again to travel by coach within the country with coach companies such as Flixbus and BlaBlaBus. We recommend to look at travel recommendations from each coach company as extraordinary security and hygiene measures apply. Cross-border connections remain suspended until further notice.
International Travel
Travel warnings have been issued against unnecessary tourist travel abroad, as quarantine measures and drastic restrictions to public life are to be expected. The travel warning is extended until included June 14, 2020 or until further notice. German citizens who are still abroad should travel back while there are still commercial travel options available.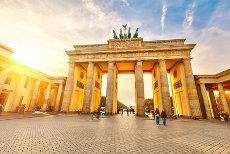 Located in the centre of Europe,
Germany
attracts numerous visitors every year. The country offers a vast amount of exciting cities, ranging from charming smaller towns such as
Constance
to modern metropolises like
Berlin
. As a holiday destination, Germany has something to offer for visitors of all kinds. Chill out in one of
Munich's beer gardens
, go mountain hiking in the Alps, take a trip to the coast up north or go
partying in Berlin or Cologne
. A journey to Germany always comes highly recommended!
Berlin is Europe's current hot spot which is why a lot of visitors opt for a trip to the capital when planning their journey to Germany. You can go clubbing 24/7 or see one of the numerous monuments reminding of Germany's moving history. See the artistically redesigned remnants of the Berlin Wall at East Side Gallery or go on a walk through the government district or on the Museumsinsel. Another city, where party and culture come together in a perfect union, is Hamburg. Take a look at the St. Pauli Piers or wander through the infamous red-light district "Reeperbahn", where you can end your day in one of the many bars and pubs. Cologne is not only worth a visit during Carnival season: Discover its famous cathedral or simply relax on the banks of Rhine. A must-see on most tourists' agenda is the Bavarian capital Munich, where you can chill out in the English Garden or go produce shopping at Viktualienmarkt. If you want to enjoy an ice-cold pint of beer in peace and quiet then opt for one of the beer gardens. If you fancy a more lively atmosphere and some breath-taking rides then visit Munich when the world-famous Oktoberfest is on. However, when you go to Germany – the country of beer – then keep one thing in mind: Always order the right kind! While the Bavarians enjoy their beer in a "Maß", a traditional stein that holds a whole litre, the inhabitants of Cologne choose much smaller glasses and will only go for their local "Kölsch".
The best way to experience the full diversity of Germany is to go from city to city – and the coach is the perfect option for this. Going by coach or bus is convenient and thanks to modern vehicles also extremely comfortable. On CheckMyBus you can see and compare the offers of many different coach providers, which will help you choose the best and most affordable ticket for your bus. Have look at on-board features, departure and arrival times as well as all the bus stops – your coach trip to, from and within Germany is only a few clicks away!
Top bus connections in Germany
Popular bus routes to and from Germany
Popular coach destinations in Germany
All coach stations and bus stops in Germany
Germany - Even more bus trips to or from this country