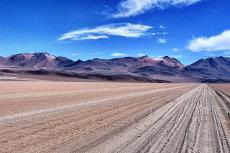 Many myths and tales tell stories about the South American country stretching 6,000 kilometres along the shores of the
Pacific Ocean
. Perhaps the most credible story tells the origin of the country's name itself: It is believed to stem from the local Aymara language and means "
Country, where the world ends
". You will certainly agree and say that you imagined the end of the world to look just like that when you see pictures of the breath-taking and incomparably unique landscapes of the
Atacama Desert
or the area around
Cape Hoorn
. The Cape is the southernmost tip of South America and due to Antarctic-cold winds, even nowadays, it remains utterly notorious among sailors and explorers.
Santiago de Chile is the capital city, stunningly beautiful, modern and surrounded by the snow-covered tips of the Andean mountains. It is also the country's most populated city, offering countless sights and museums and is worth a visit even solely because of its magnificent backdrop. The Atacama Desert is certainly one of the most diverse places on Earth. You can find moonlike landscapes at the aptly named Valle de la Luna (Valley of the Moon). You can test your body's conditioning at the 4,000-metre high mountain Salar de Talar, be left in awe by the seemingly endless salt deserts or be left speechless by a sea of flowers in the middle of the desert growing over-night due to the warm winds of the climate phenomenon El Niño. Icebergs, glaciers and exotic fauna can be found in the Torres del Paine National Park located in the southernmost part of the country. The world-famous, colossal stone statues of Moai on Easter Island in the south eastern Pacific Ocean round up the myriad natural and human-made wonders belonging to Chile.
The South American country also has a well-developed bus network which allows you to cheaply travel from A for Argentina, to B for Brazil and back to C for Chile. The most popular bus operators in the Chilean region are Turbus, Bus Norte, Pullman Bus and Andesmar. CheckMyBus provides you with all the info you need to find the best bus connections and the cheapest prices.
Top bus connections in Chile
Popular coach destinations in Chile
All coach stations and bus stops in Chile