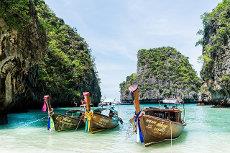 Thailand
stands for Buddhism, Bangkok and beaches. Hardly any other country on earth is as chaotic and at the same time as organised and laid-back. The picturesque beaches in the south of the country on the
islands Phuket, Koh Samui
and
Koh Phi Phi
are known by most tourists and were made even more famous by Hollywood blockbusters ranging from the James Bond franchise to the 2000 film "The Beach" directed by Danny Boyle and starring Leonardo DiCaprio.
Start your round-trip of Thailand in Bangkok, the country's largest city by far. Modern skyscrapers and shopping centres are located right next to ancient temples and traditional markets. Definitely make sure to take a stroll along the Chao Phraya River and inspect its famous floating markets. Amongst the 400 temples of Bangkok, the temple Wat Phra Kaew with its well-known Emerald Buddha is the most famous one. On your journey towards the core of the country you'll pass the Buddhist cities Ayutthaya, Kanchanaburi and Sukhothai. The North is also referred to as the "Golden Triangle" as this is where the three countries Thailand, Laos and Myanmar share borders. Of touristic interest are the provinces Chiang Mai and Chiang Rai, which are located in the midst of green palm forests. Once a year, the traditional festival of lights called "Loi Krathong" takes place there for which burning lanterns are sent into the sky.
CheckMyBus offers you the opportunity to start your holiday while still comfortably lying on your own couch: simply check all the prices and times for buses across Thailand and book your tickets.
Top bus connections in Thailand
Popular coach destinations in Thailand