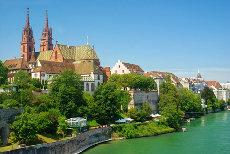 Switzerland
might be small, but size does not matter when it comes to travelling. On 41.000 km² Switzerland manages to bring together
culture, history and relaxation
. While the Alps allow travellers to discover the
Swiss mountains
on skis, cities such as
Genf, Zurich and Basel
provide entertainment and diversity. If you are looking for the best of both worlds, then you should book your trip to Switzerland: The city centre is usually just a stone's throw away from
snow-capped mountain tops.
Renowned ski resorts such as Davos and St. Moritz offer hundreds of kilometres of pistes for you to discover. If you are not into winter sports, but would still like to experience Switzerland from high up above, then a trip to the Jungfraujoch, Europe's highest train station, is highly recommended. After an exhausting hiking tour you can stop for dinner at one of the many mountain huts and dig into some of the many culinary specialties. Swiss chocolate and cheese are only two of many national dishes. Taste the traditional rösti or order Swiss fondue or raclette during your tour of the Swiss Alps. If a city holiday is what you are looking for, then a trip to Geneva should be on your agenda. The city is characterised by its international flair and allows you to relax on the banks of Lake Geneva. Also not to be skipped is Bern, Switzerland's capital. Here you can find medieval buildings as well as the famous bear pit, an architectural structure in the middle of the city housing real-life bears. Zurich, the city with the highest standard of living worldwide, is also worth a visit – not only because of the famous Lake Zürich. A stop in Basel is especially worthwhile when the "Art Basel" is on, an internationally renowned art fair which attracts thousands of visitors every year and has managed to expand to Miami and Hong Kong. Basel is located at the tripoint where the borders of Germany, Switzerland and France meet and is therefore the best city to visit if you enjoy cultural diversity and want to experience a modern multi-ethnic lifestyle.
A coach or bus is the perfect mode of transport if you want to visit Switzerland. Being situated in the heart of Europe, there are numerous bus lines to, from and within Switzerland. Modern coaches will make your bus journey convenient and comfortable. On CheckMyBus you can compare the offers of numerous bus companies, allowing you to find the perfect coach. Check prices and find the most affordable offer for your bus trip to Switzerland.
Top bus connections in Switzerland
Popular bus routes to and from Switzerland
Popular coach destinations in Switzerland
All coach stations and bus stops in Switzerland
Switzerland - Even more bus trips to or from this country
The CheckMyBus App
Free Download