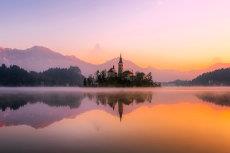 You are still looking for your next travel destination, offering tranquility, relaxation, diverse nature and a rich flora and fauna? Then
Slovenia
is just perfect for you. Almost 36 percent of the country stands under conservation. All in all there are three regional parks,
52 nature reserves
, 44 protected landscape parks and 286 Natura-2000 designated protected bird and flora-fauna-habitat-areas.
The mountain ranges of Julian Alps, Dinaric Alps, Kamnik-Savinja Alps and the Karavanke chain attract alpine climbers and skiers in winter. The biggest mountain is the 2,864 metre high Triglav, which is located in the eponymous UNESCO-natural reserve and national park. Furthermore, Slovenia also has a small access to the Adriatic Sea where you can find beautiful pebble beaches and crystal-clear water. The most stunning waters in the country are said to be the Soča River and Lake Bled. In the middle of the 2.1 kilometre long and 1.4 kilometre wide turquoise coloured lake you can see Bled Island. You can get there by using one of the traditional wooden boats. On the island itself you can visit remains from the Middle Ages and the pilgrimage church dedicated to Mary the Virgin. One of the most beloved cities of the country, besides the capital city Ljubljana, is the old harbour town of Piran.
The country in the heart of Europe benefits from its well-developed infrastructure and a modern highway system and is therefore comprehensively integrated into the European bus network. International bus operators like FlixBus, Crnja Tours, Pantourist and Go Opti will get you quickly and comfortably from Italy, Austria, Croatia or Germany to cities like Ljubljana or Maribor and other tourist or skiing spots in Slovenia.
Top bus connections in Slovenia
Popular coach destinations in Slovenia
All coach stations and bus stops in Slovenia
Slovenia - Even more bus trips to or from this country