Nuremberg, 12 September 2018 – New technologies, particularly the internet, have revolutionized people's travel habits. Everything has been simplified. Finding information about destinations, accessing the first-hand experiences of other travelers, and of course comparing prices are all commonly done by people when planning their trips now. This doesn't only apply to hotels or airlines either as buses are now fully digitalized and many users already buy their tickets online.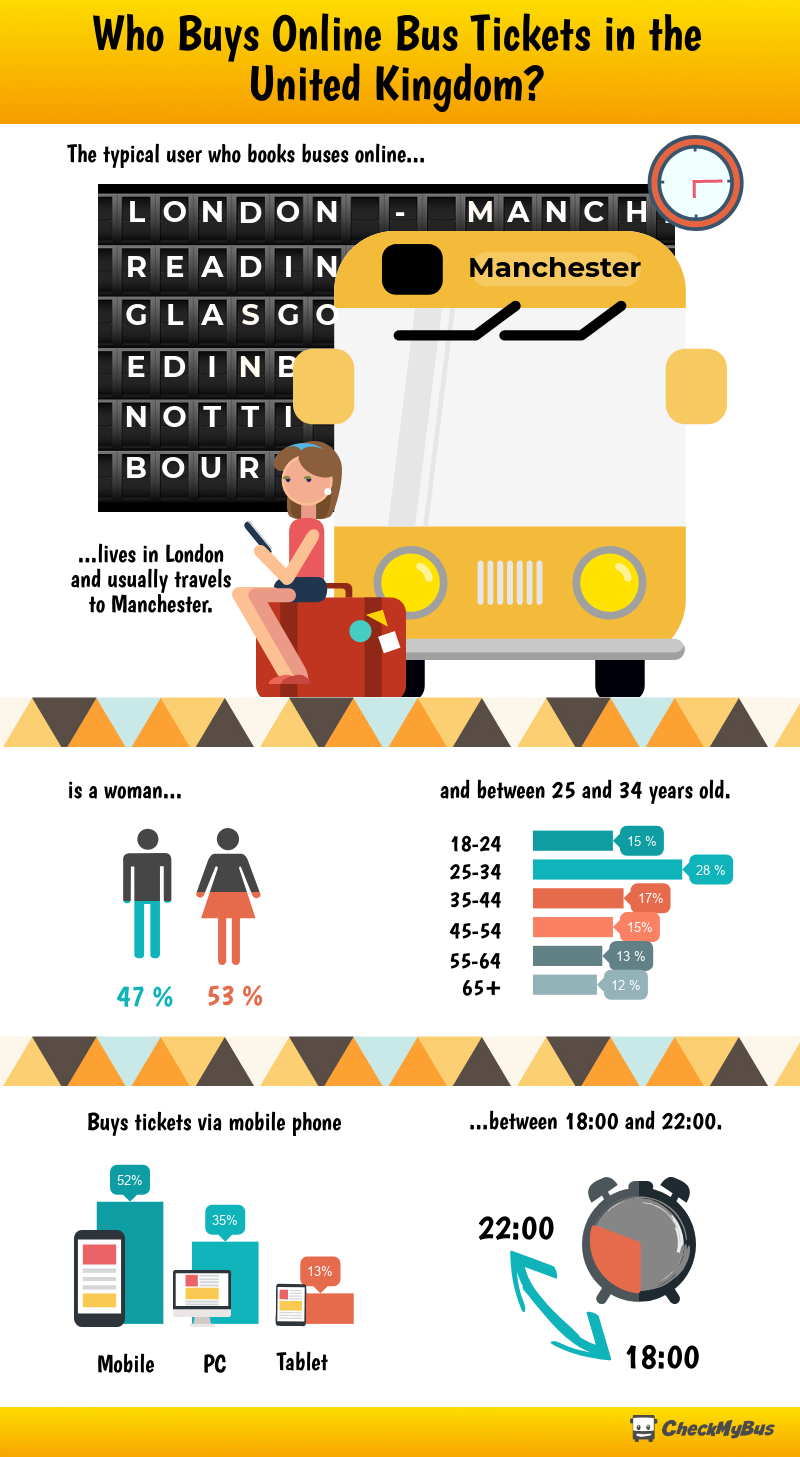 Digital Bus User Profile
According to a study carried out by the international bus search engine, CheckMyBus, the most typical profile of the digital bus user in the United Kingdom is a woman between 25 and 34 years old, living in London, who often travels to Manchester and buys her tickets via a mobile phone between 6 and 10 pm.
This study shows that the highest percentage of users who purchase bus tickets online is between 25 and 34 years old, at 28% of the total number of users, while travelers between 35 and 44 years represent 17%. Those over 65 are those who choose to buy bus tickets online only represent 12% of online users.
Passengers who book their buses online are concentrated in large cities, specifically 28% in London and 3% in Birmingham and Glasgow. Bristol and Leeds, with 2% each, are the next cities in the popularity index.
A narrow majority of users, 52%, use their mobile phone when buying tickets, while 35% use the computer, and just 13% use a tablet.
Most reservations are made between 18:00 and 22:00 each day. This period of time remains relatively consistent throughout the seasons and on weekends as well. However, more tickets are booked during the weekends while the most tickets tend to be booked towards the beginning of a work week, particularly on Mondays and Tuesdays.
The Bus Routes With the Most Online Ticket Sales
According to this study, while the most popular city of origin recorded by online users, London, is represented in several of the most popular routes, this is not the case of Birmingham, which isn't represented in the top five. However, Glasgow is connected to two of these top routes among many other destinations throughout Scotland.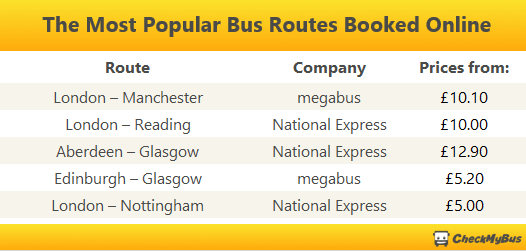 Prices found via www.checkmybus.co.uk on 10.09.2018 to travel between 17.9.2018 and 23.9.2018.
Methodology
This study has been elaborated through the analysis of the data of searches made in www.checkmybus.co.uk between the 31/08/2017 and the 31/08/2018.

About CheckMyBus
The international bus search engine, CheckMyBus, shows bus schedules and prices in more than 60 countries in real time. With more than 1,000 companies and millions of weekly departures, CheckMyBus offers users access to the world's largest online bus network. Find your bus tickets and more information at www.checkmybus.co.uk. Also available as a free App for iOS or Android.

Press Contact:
CheckMyBus
Michael Schacht
Karlstraße 9
90403 Núremberg
Tel: +49 911 310440 0
Fax: +49 911 310 440 99
E-Mail: press@checkmybus.com

Websites: www.checkmybus.co.uk, www.checkmybus.com, www.checkmybus.de, www.fernbusse.de, www.checkmybus.fr, www.checkmybus.at, www.checkmybus.ch, www.checkmybus.it, www.checkmybus.pl, www.checkmybus.pt, www.checkmybus.com.br, www.checkmybus.com.mx, www.checkmybus.com.ar, www.checkmybus.cl, www.www.checkmybus.hr, www.checkmybus.cz, www.checkmybus.com.tr