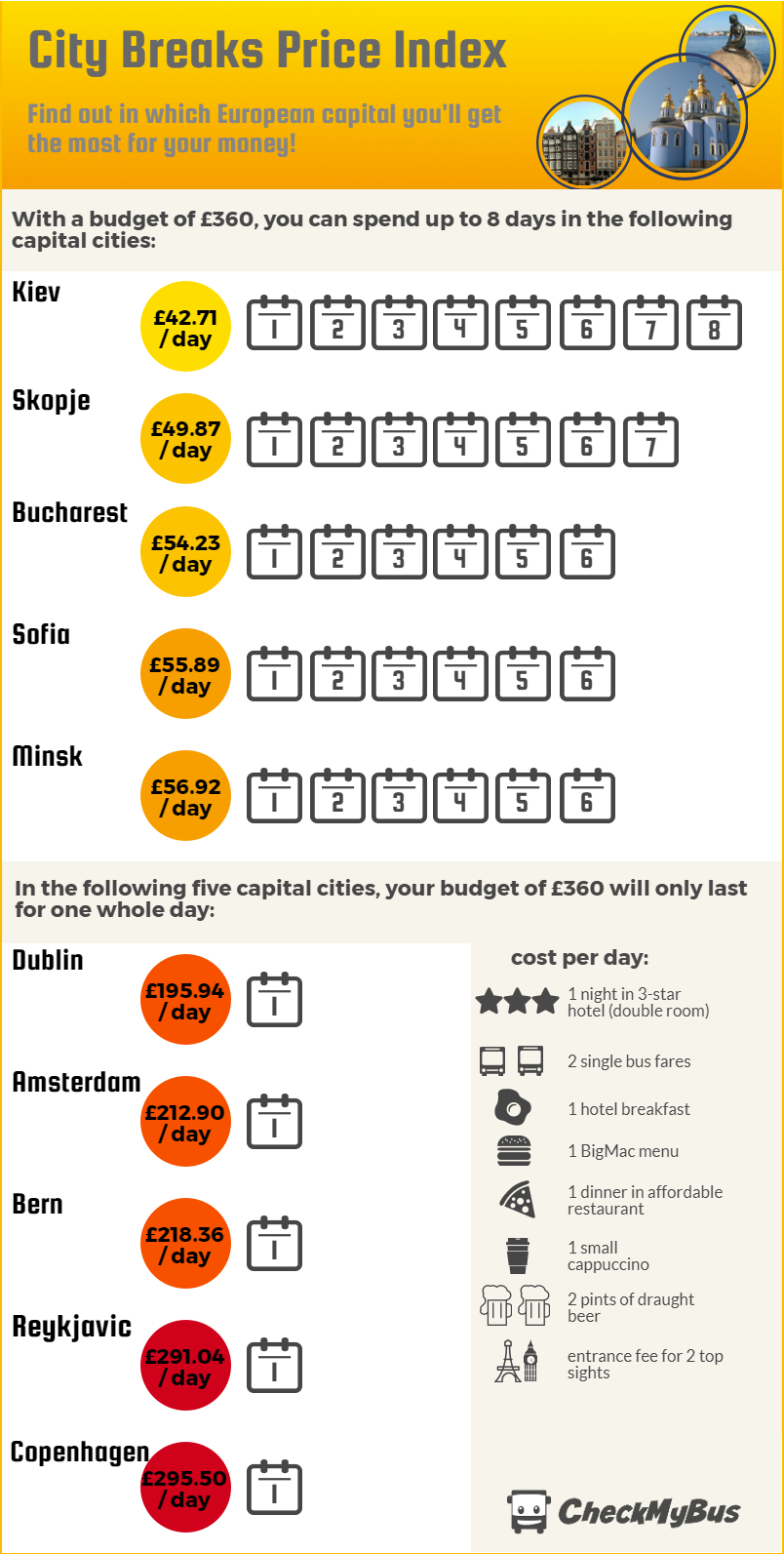 Nuremberg, 16 August 2017 – It doesn't always have to be Paris, Dublin or Amsterdam: Europe offers many more non-mainstream holiday destinations and a visit frequently comes with a more attractive price tag as well. Eastern Europe in particular in graced with a multitude of fascinating metropolises perfectly suited for your next low-budget city break. CheckMyBus took a closer look at the prices: while a single day in Paris will set you back £189.23, you only have to spend £59.70 per day to discover Riga, the European Capital of Culture 2013. Europe's priciest capital city in Copenhagen, where a one-day break will cost you the same as eight days in Kiev, our ranking's clear winner.
Travelling across Europe has never been this easy thanks to buses, trains and low-cost flights. The international intercity bus search engine CheckMyBus ranked Europe's capitals according to the cost of a city break. Firstly, the price per day was calculated. Apart from the obvious factors such as accomodation, food and drink, things like entrance fees for the city's top attractions as well as local transport costs were taken into account as well. As a final step, it was calculated how many days an average tourist budget of £360 would last in each of the these cities.
Go East: Europe's Hidden Gems
Travellers who want to go away for more than a week should pick one of Eastern Europe's metropolises. The ranking's frontrunner is Kiev, which was nicknamed "Jerusalem of the East" for its plethora of churches and cloisters. A budget of £360 will get you a total of eight days in the Ukrainian capital. In Skopje you'll have to head home one day earlier. Should you pick places 3 to 8 – amongst them Bucharest, Belgrade and Riga – you have six days to discover all the sights.
One Day in Copenhagen = Eight Days in Kiev
Travellers have to blow their whole budget on a single day of holiday in both Copenhagen and Reykjavik. This makes the Scandinavian metropolises Europe's most expensive capitals. With almost £300 per day, Copenhagen is nearly seven times as expensive as Kiev and still twice as pricy as Rome, which costs aroung £143.84 per day. A weekend getaway to Bern, Amsterdam, Dublin or Paris is not quite budget-friendly either: the money will only last for one or two days.
London: Pricy, Yes – Unaffordable, No
It won't come as a surprise that London is not among the budget-friendly destinations for a city break. An average day in the British capital, which is ranked 31st, costs travellers around £156 – and that despite the fact that London's top sights are free of charge. However, the city is still less expensive than the majority of London's neighbouring capitals. Brits suffering from wanderlust should thus save up before visiting the likes of Paris, Amsterdam or Dublin. You can get three full days of holiday in Germany's capital Berlin. Heading further east will allow you to make even more of your holiday funds. In Prague and Budapest your money is worth four to five days, making these two capitals perfect mini break destinations – not only for stag dos!
For the complete ranking including additional information, please click here.
About CheckMyBus:
The international bus search engine CheckMyBus shows real-time schedules and prices in more than 60 countries. With more than 610 bus operators and millions of weekly departures, CheckMyBus gives the user access to the world's largest virtual bus network. Find bus tickets and more information on www.checkmybus.co.uk. Download our app on iOS and Android.

Press Contact:
CheckMyBus
Andreas Oswald
Karlstrasse 9
90403 Nuremberg (Germany)
Tel: +49 911 310440 0
Fax: +49 911 310 440 99
E-Mail: press@checkmybus.com

Websites: www.checkmybus.co.uk, www.checkmybus.com, www.checkmybus.de, www.fernbusse.de, www.checkmybus.fr, www.checkmybus.at, www.checkmybus.ch, www.checkmybus.it, www.checkmybus.pl, www.checkmybus.pt, www.checkmybus.com.br, www.checkmybus.com.mx, www.checkmybus.com.ar, www.checkmybus.cl, www.www.checkmybus.hr, www.checkmybus.cz, www.checkmybus.com.tr