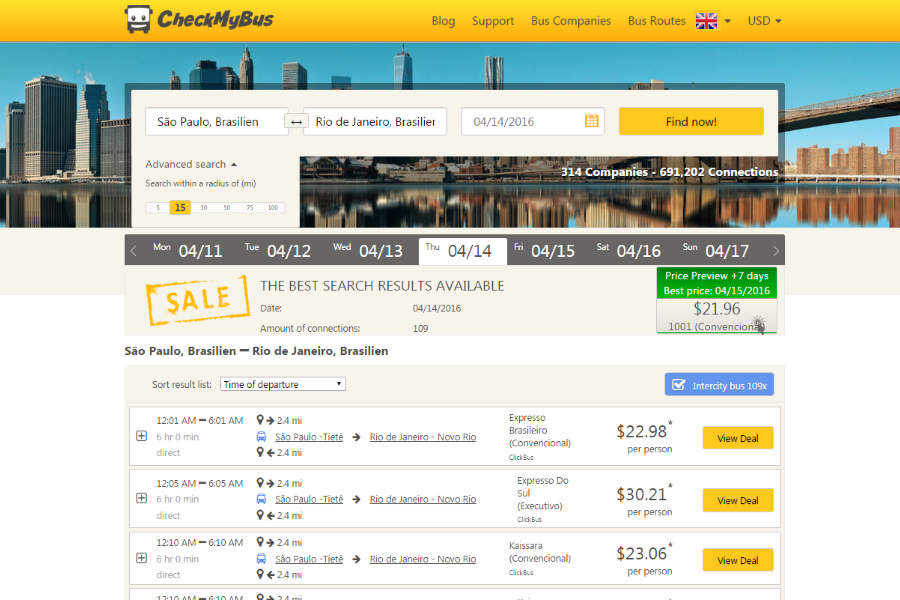 Nuremberg / São Paulo, 12 April, 2016 – The leading international bus search engine CheckMyBus enters the Brazilian market by teaming up with the leading online bus ticket platform ClickBus. Just in time for the Olympic Games national and international travellers can find their bus connections in Brazil.
By collaborating with ClickBus, a Rocket Internet venture, CheckMyBus adds a Brazilian portfolio to its global bus network which now offers more than 20,000 destinations and millions of weekly departures on both sides of the Atlantic Ocean.
As market leader in Brazil, ClickBus expands the international bus network of CheckMyBus by contributing connections from 65 local bus companies with 3,500 new destinations. "Having a strong partner with excellent booking technology in Latin America with its huge bus market adds a significant value to our international audience. Now we can offer travellers from all over the world an easy, efficient and superb service to find the best bus connections," says Marc Hofmann, Managing Director at CheckMyBus.
With the new partnership ClickBus can deliver its Brazilian portfolio via the international CheckMyBus websites, including those in the United Kingdom, Germany, Spain, France, Italy, Poland, Austria, Switzerland, the Netherlands and the United States. The Brazilian bus operators connected to ClickBus and distributed by CheckMyBus benefit from an extended reach and can be booked from throughout the world. At the same time Brazilian users can search for bus connections in more than 50 countries in their own language.
"The Brazilian bus travel market is extremely fragmented and since we have laid all the groundwork of connecting the bus companies to our platform, through this partnership we can offer foreigners all the information they need to compare and buy their bus tickets online and in advance. This way, we will help them avoid possible hassles they could have due to the language barrier and lack of experience travelling around Brazil during the Olympic Games," says Fernando Prado, Co-CEO and founder of ClickBus.
About CheckMyBus
The leading international bus search engine CheckMyBus shows real-time schedules and prices in more than 50 countries now including Brazil. With more than 300 bus operators and millions of weekly departures CheckMyBus gives the user access to the world's largest virtual bus network. For more information please access www.checkmybus.com.br or www.checkmybus.co.uk
About ClickBus
ClickBus, the leading online bus ticket platform in the world, launched in August 2013, is currently present in Brazil, Mexico, Colombia and Turkey. Globally, the company has sold over a million tickets and has a staff of approximately 100 employees. For more information, please access www.clickbus.com.br

Press Contact:
CheckMyBus
Andreas Oswald
Karlstrasse 9
90403 Nuremberg (Germany)
Phone: +49 911 310440 0
Fax: +49 911 310 440 99
E-Mail: press@checkmybus.com

Websites: www.checkmybus.co.uk, www.checkmybus.de, www.fernbusse.de, www.checkmybus.com, www.checkmybus.fr, www.checkmybus.it, www.checkmybus.es, www.checkmybus.at, www.checkmybus.ch, www.checkmybus.nl, www.checkmybus.pl, www.checkmybus.com.br