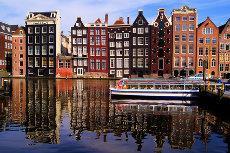 The
Netherlands
have more to offer than tulips and Gouda cheese: A combination of
sandy beaches and historical cities
is awaiting visitors, allowing for a diverse holiday that is made up of sightseeing and fun activities on the coast. If you are looking for
fun and culture
, then the Netherlands are the perfect holiday destination for you!
The Kingdom of the Netherlands is visited by thousands of tourists every year and many of them are directly headed for its capital Amsterdam. The capital emits royal flair as it is the home of members of the Dutch monarchy. Apart from regal buildings you can take a closer look at Dutch culture by visiting one of the many museums that can be found in Amsterdam. From modern art to the art of brewing modern beer: there's always an exhibition that suits everyone's taste. If you are done with sightseeing for the day, you can move on to partying in one of the many bars and clubs which contribute to Amsterdam's vivid nightlife. Not far away from the capital tourists can find the city Rotterdam with its enormous port and breath-taking architecture. An inside tip is the student city Utrecht, which is the home to the Netherlands' biggest university. Thanks to the students Utrecht is known as one of the liveliest cities in the Netherlands. Many big cities in the Netherlands are only a stone's throw away from the Dutch North Sea coast, allowing tourists to top off their city trip with a few relaxing days at the beach. Impressive landscapes and sandy dunes characterise the Dutch coast and create a unique atmosphere. However, travelling from North to South is also highly recommended when visiting the Netherlands. Not only can you spot one of the characteristic wind mills, but your way is also frames by endless fields of tulips and other flower nurseries.
Taking the coach or bus to the Netherlands is convenient and comfortable, but also very affordable. Numerous coach companies offer bus lines to, from and through the Netherlands so that your trip to Amsterdam, Maastricht or Groningen is hassle-free. CheckMyBus will help you to find the best offer by giving you all the information you need at a glance. Compare the features and amenities on the coach and see which departure times suit your schedule. Thanks to CheckMyBus your trip to the Netherlands is only a few clicks away!
Top bus connections in the Netherlands
Popular coach destinations in the Netherlands