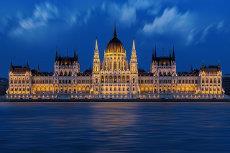 The next bank holidays are in the pipeline and you still don't know where to go? Our recommendation:
Hungary
. The Middle European country has plenty to offer for bathing beauties as well as city lovers. Most tourists travel to visit
Lake Balaton
. It is such a big lake that you can almost get the impression of being at the sea but with the advantages of sweet water, no currents or huge waves, gently sloping beaches and
relaxing thermal baths
. Miskolc, Szeged, Pécs, Debrecen and Győr are the biggest cities in the country.
Hungary's poster child is undeniably its capital city Budapest. At the banks of the Danube River you can go for a stroll, chill and enjoy the flair of the city. If you have time, you should go into one of the lovely cafés and order a homemade piece of Hungarian Dobus torte. It's so delicious. Should you rather prefer savoury food, try the national dish Goulash soup. The main landmark and also highest building of the city is the 268 metre long House of Parliament with its 365 spires. In the west of Budapest on Gellért Hill you can find the so-called Liberty Statue and the bastille. The Buda Castle is also an impressive sight that you must see during your stay. The former Castle of the Hungarian Kings was completed in 1265 on the southern tip of Castle Hill. Nowadays it contains the National Library, National Gallery and a historical museum. Every year Budapest hosts several marathons and bike events which attract many sportsmen. Close to the Austrian border, you can visit the Rococo Castle Eszterháza in Fertőd which is nicknamed "Hungarian Versailles".
Certainly you ask yourself, what is the cheapest way to get to Hungary? You are best advised to take the bus. International bus providers such as Eurolines, FlixBus and RegioJet as well as national bus operators like Autohec, Autotrans and Crnja Tour offer a huge choice of travel opportunities, which you can compare easily by using with CheckMyBus.
Top bus connections in Hungary
Popular bus routes to and from Hungary
Popular coach destinations in Hungary
All coach stations and bus stops in Hungary
Hungary - Even more bus trips to or from this country
The CheckMyBus App
Free Download