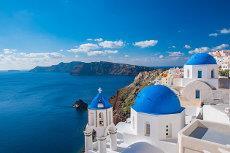 Greece
– You instantly think of turquoise coloured sea, antique remains, blue-white houses, Ouzo and the laid-back way of living of its inhabitants, don't you?
Mediterranean climate
with hot-dry summers and countless idyllic beaches make this country so attractive to water lovers, sun burn chasers and
cocktail in a sun chair drinkers
. However, did you know that roughly 78 percent of the Mediterranean state are made up of mountains? Therefore it is also an attractive destination for
mountaineers
and sporadic hikers. Moreover, the remains of the early advanced civilisation of antique Greece are spread across the country and they certainly have compelling historic stories to tell.
One of the most photographed sights in the world is the Acropolis in Athens and thus worth a visit. The island of Crete is the biggest and southernmost Greek island. Most touristy are the towns and popular beaches in Chersoneses, Rethymnon, Chania and Heraklion. The beach of Vai in the east of the island is the only palm-lined beach and the Samariá Gorge should be on your list for day-trips, too. On Rhodes Island you can find but actually not see the Colossus of Rhodes, one of the Seven Wonders of the World, and the impressive historic old town. The archipelago of the Cyclades comprising the islands Santorini, Mykonos, Paros and Naxos are most beloved by honeymooners and couples as the blue-white houses, which are sometimes built into the hills, hotels with infinity-pools, the beautiful cliffy rocks, heart-opening sunsets and the small streets of the villages pour on the romantic charm. In contrast to that, the Ionic Islands including Corfu and Zakynthos impress their visitors with a more Italian flair – pine trees and pebble beaches. So, in the end, which one of the 3,054 islands do you choose?
Bus providers like Eurolines, Autokar Polska and AGAT get you from Germany or Poland to Greece. Via CheckMyBus you can easily and comfortably compare prices and travel times. Whether at home or at your holiday destination, you will always find yourself the best trip.
Top bus connections in Greece
Popular coach destinations in Greece
All coach stations and bus stops in Greece
Greece - Even more bus trips to or from this country