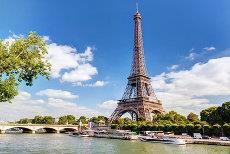 Going to
France
is on many people's bucket list and rightly so. Wandering through the alleys of
Paris
, drinking wine in
Brittany
or get to know the glamour of the
French Riviera
– France is versatile and therefore a dream destination for every holiday. If you want to experience what the French call
"savoir-vivre"
firsthand, then book your trip to the Grande Nation!
When going to France, many visitors are drawn to the charm of its capital, Paris. Known worldwide as the city of love and romance, Paris has a lot to offer – not only for newlyweds and honeymooners. Take a look at da Vinci's Mona Lisa in the Louvre Museum or take a walk along the river Seine all the way from the Eiffel Tower to Notre-Dame Cathedral. If you climb the hill of Montmartre a wonderful view of the city is waiting for you. If your dream holiday consists of lying at the beach, then the Côte d'Azur is the right place for you. Glamourous places such as St. Tropez, Cannes and Nice allow you to relax on the beach with a glass of champagne in your hand. A trip to Cannes is especially worthwhile during its renowned annual film festival, when the French and the international High Society meet to celebrate their latest movie successes. What cannot be skipped on your trip to France is having a taste of their culinary arts. Michelin star restaurants are not hard to find, be it in harbour towns such as Marseilles or in the hills of the Provence. Taste French cheese, have a bowl of homemade Bouillabaisse and enjoy a glass of local wine in order to make your trip to France a full success!
Getting to France by coach and bus is as easy as finding convenient connections within the country that take you from Lyon to Toulouse and from Paris to Cannes. On CheckMyBus you can compare the offers and many different coach providers: Check for departures times, see the comfort features that are offered on the coach and book your ticket. You are only a few clicks away from your coach trip to, from and within France!
Top bus connections in France
Popular bus routes to and from France
Popular coach destinations in France