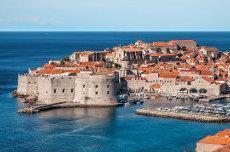 Croatia
is surrounded by Slovenia, Hungary, Bosnia-Herzegovina, Montenegro and the Adriatic Sea. It is an established member of the EU, NATO, World-Trade-Organisation, OSZE and United Nations and therefore a very important country for the region. Besides the economic aspects, Croatia is mainly noted for its beautiful and
crystal-clear pebble beaches
which appear in colours from light turquoise to deep dark blue. But it's not only its appearance that attracts seaside tourists, most of the beaches are even certified with the "
Blue Flagg
" which stands for an extraordinary good quality of water.
Regarding its awareness as a holiday destination, the "World Tourism Barometer" ranked Croatia as place 18 worldwide. The most-loved seaside spots are the Islands of Krk, Brač and Hvar as well as the small town Split in Dalmatia. The Northern region of Istria and its harbour towns Pula, Umag, Porec, Rovinj and Rabac are somehow like northern Italy where you can find olive trees, cypresses and pine forests. Dubrovnik in South Dalmatia is the ultimate spot for the international High Society, cruise ships and is said to be one of the most impressive and stunning cities in the Mediterranean sea. A 1,940 metre long and three to six metres wide wall, which is completely accessible for visitors, encircles the city and gives it an exceptional flair. Besides the seaside spots, the hinterland is impressive as well. You can make an excursion to the "Red Lake" close to Imotski, the "Blue Caves" on Biševo Island or waterfalls in Plitvice Lake National park, where some parts of the Winnetou-films were shot.
Especially the northern Croatian region is easily accessible by bus within a few hours from Germany, Austria and Switzerland. Regardless of whether you opt for Istria, North, Middle or South Dalmatia, national and international bus providers like FlixBus, Crnja Tours, Eurolines or Autotrans will bring you to the beaches, cities and attractions throughout the country.
Top bus connections in Croatia
Popular bus routes to and from Croatia
Popular coach destinations in Croatia