Canada: COVID-19 Travel Updates
Domestic Travel
Canadian residents are strongly encouraged to stay home. Travel health notices include a warning to avoid non-essential travel in order to protect the health of other travellers and the general public. Travel within the country is restricted, and many bus companies, such as Greyhound have temporarily suspended all services until passenger travel demand recovers.
International Travel
The Government of Canada advises that you avoid all non-essential travel outside of Canada until further notice. Canadian residents abroad are strongly advised to return where commercial routes are still available. The Government has put in place an emergency order under the Quarantine Act, it applies to all travellers arriving in Canada. People entering the country must go into obligatory quarantine (self-isolate) for 14 days.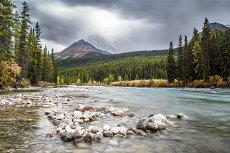 Are you dreaming of a
camping trip
, wild animals, vast landscapes and unique national parks close to vibrant metropolises? Then Canada should be top of your bucket list! Being the second largest country on earth, Canada offers numerous activities and places to explore. Around 70 percent of the country is made up of
diverse nature
, ranging from forest over mountains all the way to jungles. If you're more of a water lover, then take a trip to the Arctic waters, where you'll find whales, walruses, seals and
polar bears
.
With about 45,000 square kilometres, Wood Buffalo National Park is the largest of its kind in Canada and it is home to many critically endangered species and to the biggest population of free-living bison in the world. But Canada has much more to offer than nature: the country's cities including Toronto, Québec, Montreal and Calgary are modern and vivid metropolises offering a plethora of exciting and unique architecture. Ottawa is the capital city of Canada and simultaneously the city with the highest standard and quality of living. Should you be interested in a trip to Canada, then aim for late summer – so-called "Indian Summer" – when the leaves of the trees all around the Great Lakes appear in vibrant colours, which are mirrored on the water surface: green, yellow, red and brown – it's an impressive spectacle of nature!
When in Canada, we highly recommend using the bus to explore the whole country in a laid-back and at the same time budget-friendly way. The American coach company Greyhound offers trips within Canada as well as in the US. CheckMyBus always shows you current prices so you can plan your trip ahead of time and make the most of your Canadian adventure.
Top bus connections in Canada
Popular coach destinations in Canada
All coach stations and bus stops in Canada
Canada - Even more bus trips to or from this country