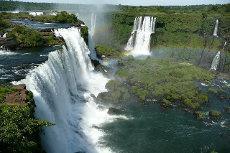 Hardly a country on earth is as diverse as
Brazil
: whether you want to relax at the Copacabana with a glass of fresh Caipirinha in your hand, see awe-inspiring modern architecture in metropolises such as
Brasília
, go mountain-climbing in the Serra do Mar or discover the
Amazonian Rainforest
– everything is possible in Brazil.
More than 7,000 kilometres of coast are waiting for you when you opt for a trip to one of the largest countries on the Southern Hemisphere. You can relax on one of the many famous beaches including Ipanema and enjoy true Brazilian lifestyle or discover one of the country's numerous metropolises. When you're in Rio de Janeiro make sure to take a trip up Sugarloaf Mountain and to marvel at the city's – and country's – most famous landmark: the statue of Christ the Redeemer. Time permitting, we highly recommend you do some sightseeing in São Paulo, Recife or Salvador as well. And don't forget about Brasília, the country's capital, which was only built in the 1960s and is one of the most modern cities in the world. Apart from its many metropolises, Brazil is also rich in natural landmarks including the impressive Iguazu Falls or the Rio da Prata, which is a good place for extensive snorkelling adventures. There's two more things, for which Brazil is famous: samba and sports! Make sure to schedule your trip well so that you can either see the country's many samba schools competing in the annual carnival or one of the big sports events. After Brazil successfully hosted the 2014 FIFA World Cup, the next highlight was the Olympic Games in 2016.
The coach is one of the easiest and cheapest ways to explore large countries such as Brazil. Numerous coach companies including Águia Branca, Andorinha, Auto Viação 1001, Nacional Expresso, Util and Viação Cometa offer bus connections between destinations in Brazil. The inexpensive offers allow you to discover the best of Brazil for little money, from attractive metropolises over sandy beaches to vast landscapes.
Top bus connections in Brazil
Popular coach destinations in Brazil