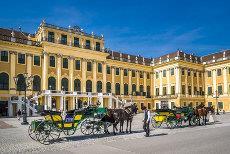 Frequently overlooked, yet always worth a visit is Austria. The Alpine Republic has always managed to capture the hearts of
winter sport
fans due to its snow-capped mountain peaks but is also highly appreciated by cultural aficionados from all over the world. Cities such as
Vienna and Salzburg
did not only go down in history as important and influential musical centres but also offer numerous other intriguing sights and diverse entertainments. They boast a modern lifestyle in a
historic ambience
, which is why so many people opt for Austria as their travel destination every year.
Glistening snow, refreshing mountain lakes and steep slopes – this is what Austria is most famous and most appreciated for by fans of winter sports from all over the world. You can discover the Alps on skis and snowboards in winter or go hiking in summer. Climb all the way up to the top of the mountain in order to enjoy a breath-taking view of the Alpine Republic. But there's more to discover than impressive landscapes: As capital of the former imperial Austria, Vienna is home to many regal palaces, the most famous one being Schloss Schönbrunn. Have a look at the royal chambers, where Austria's fairytale-empress Sisi used to spend her days, or take a walk through the adjoining zoo. When going to Vienna a stop at Café Sacher is a must where you should order a slice of the delicious Sacher cake. If you fancy something savoury, then you can't go wrong with the local specialty Viennese Schnitzel. Vienna, however, is not the only Austrian city that knows how to impress its visitors. A trip to the famous Bregenz Festival on the lake or to the Ars Electronica Festival in Linz also come highly recommended. The history city of Salzburg is ranked as one of the UNESCO's World Heritage sites and cannot be missed on a trip to Austria either. Enjoy the unique flair of these and many more cities which make Austria the perfect holiday destination for sports fans and city hoppers alike.
Travelling to, from and within Austria by coach or bus is not problem whatsoever. On CheckMyBus you will always find convenient coach connections, which allow you to go to your dream destinations in a convenient and affordable way. It does not matter whether you want to visit Vienna or whether you opt for Salzburg or Linz instead – check the coach timetables and pick your perfect bus. You can see all departure and arrival times at a glance and we will supply you with all the information you need, including the exact location of bus stops and coach stations as well as an overview over which features you can expect on board. Book your coach journey to Austria now – it is just a click away!
Top bus connections in Austria
Popular bus routes to and from Austria
Popular coach destinations in Austria
All coach stations and bus stops in Austria
Austria - Even more bus trips to or from this country