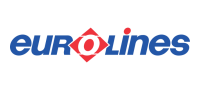 A total of more than 30 individual coach companies concur under the joint brand name Eurolines operating intercity bus journeys throughout Europe. The UK branch, Eurolines UK, is run by National Express serving bus stops in various British cities. Most bus routes are available from London with destinations including international capitals such as Amsterdam, Brussels and Paris.

Passengers travelling with Eurolines UK can choose between 2961 connections and a total of 261 destinations.
Deals and Discounts: Current Eurolines UK Offers and Promo Codes
Check for discount codes, special offers and other
Eurolines UK Deals
.
Information on Eurolines UK on-board features and services
free:
Toilets

Air-conditioning

Compartments for hand-luggage

Luggage transportation

Discount for frequent passengers / members